Meet Dr. Eric McQueston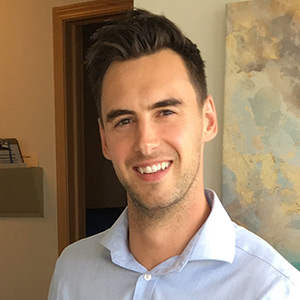 Dr. Eric McQueston suffered from chronic low-back pain and shooting pains down the back of his leg for years. Though he was bothered by the discomfort, it wasn't until it started to affect his hockey playing in college that he took action. Dr. McQueston saw various practitioners for his pain, but typically left those offices feeling the same as, or worse than, when he entered.
Discovering a Passion for Chiropractic
Once he started seeing a chiropractor, however, Dr. McQueston soon felt 100 times better. "The chiropractor could tell me exactly what was going on, what was causing it, and how to fix it." At that point, Dr. McQueston realized that he wanted to become a chiropractor.
Obtaining a Chiropractic Education
After earning a bachelor's degree in kinesiology from the University of Calgary, Dr. McQueston enrolled in chiropractic college. He received his Doctor of Chiropractic from Life Chiropractic College West in the Bay area. One of his professors, Dr. Herbert Bell, influenced him greatly. "He instilled in me that there's a reason why chiropractors are different. We truly listen; we care, and we take a hands-on approach." And it is the healing nature of this hands-on approach that Dr. McQueston identifies with the most.
Connecting With Patients
One of Dr. McQueston's favorite aspects of being a chiropractor is getting to know patients on a personal level. Outgoing and upbeat, he is always interested in what his patients have to say.
"When you're seeing patients who want to be here, it doesn't feel like work." Dr. McQueston wants to know why his patients come into the office, what their health goals are, and how he can help them achieve those goals. He also likes to put patients in the driver's seat.
"When patients realize that they're in complete control and have the ability to take full responsibility for everything that's going on in their lives, when they realize they have that power – that's huge for me."
Staying Active in Calgary NW
When he's not at the practice, Dr. McQueston enjoys staying physically active. He goes to the gym daily, plays in a men's hockey league, hikes in the mountains and enjoys boating on the lake. Disconnecting from technology is also therapeutic for Dr. McQueston. On long weekends you can find him at his family's cabin which doesn't have Wi-Fi or TV.
Family is very important to him. His parents live here in Calgary and have always been supportive of his decision to become a chiropractor. He looks up to his younger sister, who is an avid world traveler. She recently taught English in South Korea and is currently teaching English in Vietnam.
Book an Appointment
Take that first step toward feeling your best. Contact Dalhousie Family Chiropractic today to schedule an appointment with Dr. McQueston!

Dr. Eric McQueston | (403) 286-2245