Meet Oso, The Office Dog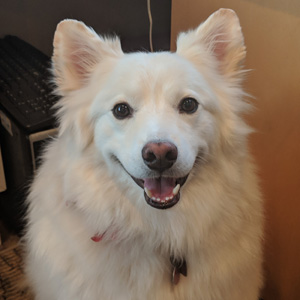 Hi there! My name is Oso. I am an American Eskimo and I love to play!
My mom says I am such a god boy and that I am very smart. I am constantly learning new tricks to which my mom jumps for joy and makes a big racket about it, but it's cool, I like to see her so happy! I can roll-over, shake a paw, play dead and much more!!
I am quite shy around new people so you will find me hanging out with my mom behind the desk. I will come out for some meet and greets when I feel comfortable. Once I am comfortable with you I am all about the pets!
I am in the office on Wednesdays and Fridays so come by and say hi! I'd love to see you :)

Oso | (403) 286-2245