Calgary NW Chiropractor for Pain Relief and Wellness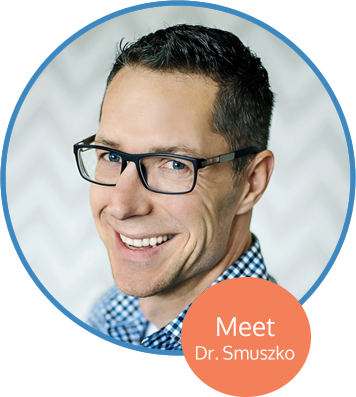 Enhance Your Health at Dalhousie Family Chiropractic & Massage
Calgary NW Chiropractor Dr. Jerry Smuszko (pronounced Smooz-ko) holds a special place in the hearts of his many patients. The original meaning of schmooze is "to chat, to mingle, to talk in a cozy manner." That's exactly what you'll find when you become a patient of Dr. Jerry: a familiar connection that makes you feel safe, cared for, and in the best of results-oriented, professional hands.
Dr. Jerry Treats You Like Family
It's true. Because Dr. Jerry has children of his own with special challenges, and has suffered from a long bout of migraines in the past, he's particularly engaged in the successful outcome of those he serves. His emphasis is on families, from children to adults and those in their golden years. He has a huge capacity to help, with kindness and compassion.
In his 20+ years of experience, his passion for his profession has grown. We love to work with children through every developmental stage. We're also passionate about working with moms-to-be to help alleviate their back pain. We know, whether you're suffering from sciatica or intense neck pain, we can help.
We love what we do, and we know, without a doubt, what we do can optimize your health and help you to live the life you were destined to live.
Our Practice Difference
We stand out in the community in many ways:
We are located in the heart of the northwest, with easy access to our comfortable and modern office.
We offer state-of-the-art chiropractic treatment using various techniques.
We have a special affinity and treatment regimen for those suffering with headaches and Chinook migraines.
We feature on-site, digital X-ray capacity for diagnostic excellence.
Our office is a "home away from home." We work diligently to gain your trust and build rewarding relationships. We believe that good health is your greatest asset, and our mission is to protect yours! It's our hope that you'll soon refer to us as your family chiropractor. Contact our chiropractor Calgary NW today for a convenient appointment.
Chiropractic at Dalhousie Family is gentle and effective. Wouldn't you like to regain the ability to enjoy the things you're missing? Contact us at (403) 286-2245 to learn how we may be able to help you!